The new job is going quite well. I'm still really hoping to go to school. I'm playing the waiting game now. I'm in the program but I'm waiting to hear about funding. Obviously, I can't go if I don't get it, and that will suck, but at least I've got a half decent job if it doesn't happen.

My roller derby team is having a fundraising party next Thursday. That's the 14th, it's at Ciao Edie and it's going to be wicked fun. Plus I'm going to DJ for a bit and I promise I'll play really good music. There will also be some roller skate musical chairs and female nakedness! I'd love to see some of y'all there. Well, all of you really, but the ones that live out of town are excused. This time:)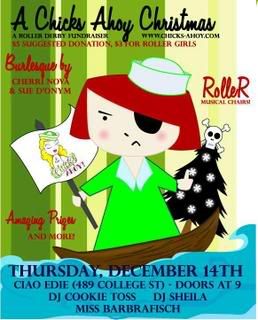 And just for fun, check out our new video! Chicks Ahoy! present .... "ROLLERSKATIN"!